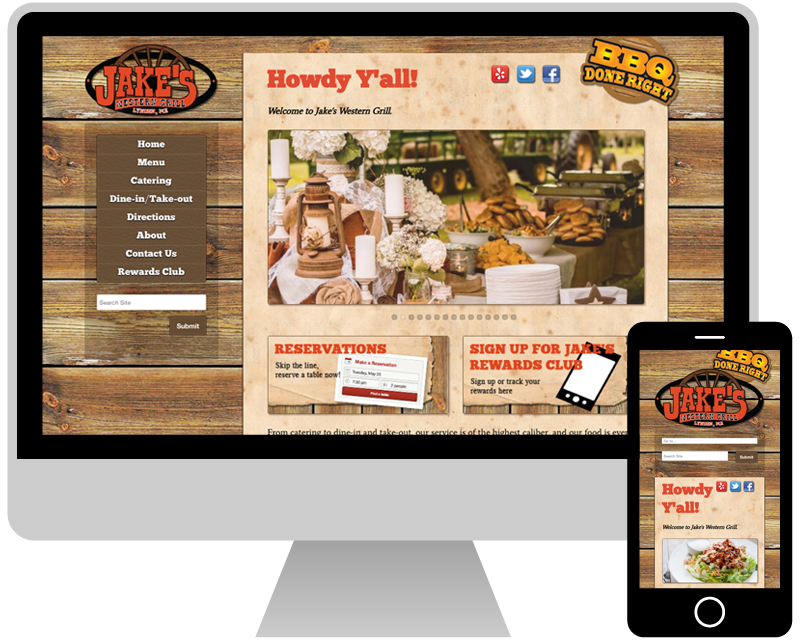 Client:
Jake's Western Grill
Website:
Our Services:
Web Design
Site Launch Date:
2012
---
---
Case Study
The Problem
Our client requested a menu redesign that would reflect the ambiance and meal selection the restaurant provides. The original menu had been lacking in visuals, branding, and ambiance that better represented the restaurant. After some work on the menus, the original website had also come under discussion as it had a more modern look that didn't match the western theme. Our client was so impressed our work on menus, a billboard design, and table tents that he asked us to follow through with a website to match that branding and identity.
THE SOLUTION:
We built the website on a Content Management System that included a WYSIWYG editor that allowed the client to make content edits themselves. We also implemented a stylized rotating banner, form building functionality, social media embeds, and other features that enabled Jake's Western Grill to maintain and update their content from an empowering context without needing to know markup.
The website was built within budget, with Jake's Western Grill with the potential to grow the website in the future. One of our future goals is to integrate online ordering requests that work with their point of sale system in the restaurant.
We redesigned the entire branding of Jake's with new dine-in, take-out, homeshow, and kid's menus, the billboard, table tent, catering rack card, gift card, and mission statement materials. The new online presence was the next logical step in pulling all of this work together for the client. The end result was a coherent satisfying and apt web identity that meshes across all aspects of the business, printed or otherwise.
The Task:
To create a website concept that reflects the new printed menu redesign. The website needed to be visitor friendly with a strong visual of the menu items. We also needed to create a navigable menu item page that allowed people to quickly find the types of foods they were looking for. The website also needed to be engaging visually, and a twitter feed was specifically asked for.
During the menu redesign process, Jake's had hired a professional photographer to capture more professional photos for the final product. We were able to repurpose those photos for the website to give our displays of dishes to be crisp and well shot.